[Late Night Avant-Garde]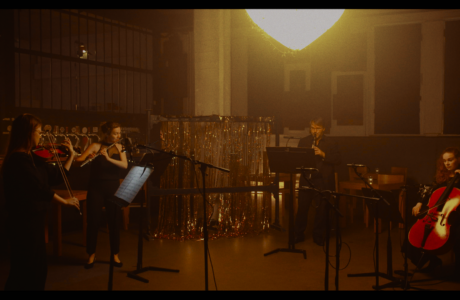 Casco Phil
Benjamin Haemhouts conductor
Stefaan Degand narrator
Frederik Neyrinck – Echo de Clèves A 
Frederik Neyrinck – Gestalt IV 
Benjamin Haemhouts – Lamento
Philip de Jager – Kaleidoscope
Annelies Van Parys – Maanvis
Matthias Coppens – Quartet op. 3
29.09.23

21:30 > 23:30

SMAK, Ghent

TICKETS
Unexpected music at an unexpected time in an unexpected place. With Late Night Avant-Garde, we throw out all preconceptions about contemporary music. We leave the concert hall and perform a contemporary repertoire in surprising places, such as nightclubs or cocktail bars. Relaxation, conviviality and personal contact are key. You are sitting almost right next to the musicians, and all composers performed are there for a chat about their music. We start late, deliberately keeping the length of the concerts manageable. This makes Late Night Avant-Garde the ideal way to connect a new, young audience with today's classical music.
For this first edition, we invite five Belgian composers. Annelies Van Parys rearranges the poetic film music Moonfish (2001) for alto flute, clarinet, cello, harp and percussion; Frederik Neyrinck presents his cello solo Echo de Cleves A (2020); Mathias Coppens tackles the traditional form of the string quartet in Quartet Opus 3 (2015); Philip De Jager shows the versatility of percussion in Kaleidoscope (2022); and Benjamin Haemhouts reflects with hope on recent challenging times for artists in his Lamento (2022). We deliberately do not do world premières, but instead we bring recently written works by these five to the foreground once again. We want to offer this fantastic contemporary repertoire a longer life than the usual one-off – which it absolutely deserves.
These recent works are interspersed with ancient writings: actor Stefaan Degand reads William Shakespeare's sonnets in his inimitable way as if they were written in Flemish and spoken for the first time.
---
This concert is part of  Night of the Imagination
back to homepage